Network Infrastructure Security, typically applied to enterprise IT environments, is a process of protecting the underlying networking infrastructure by installing preventative measures to deny unauthorized access, modification, deletion, and theft of resources and data.
Firewall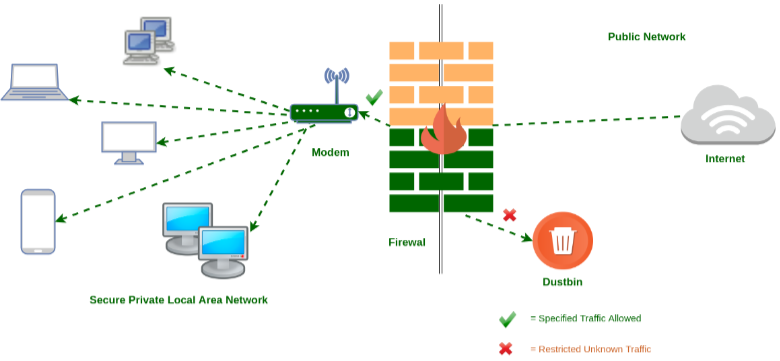 A firewall is a network security device that monitors incoming and outgoing network traffic and decides whether to allow or block specific traffic based on a defined set of security rules. It prevents hackers from attacking a network. Perhaps it is one of the best protections ever made to stand out against the internet threats. Including cyber attacks it prevents your computer from various other threats surrounding on the internet.
Firewalls have been a first line of defense in network security for over 25 years. They establish a barrier between secured and controlled internal networks that can be trusted and untrusted outside networks, such as the Internet.
A firewall can be hardware, software or both.
Benefits

Monitor Traffic

Prevent Hackers

Access Control

Better Privacy
The following are the list of organization where we have installed Firewall Security.
Educational Institute / NGO
- Arunodaya Public School - Thane, Mumbai, Maharastra
- Andhjanshala Shivarimar - Dang, Gujarat
- Manav Kalyan Trust,Navsari - Navsari, Gujarat
- Sanskar Samrudhi School of Excellence - Navsari, Gujarat
Corporate Sector
- Shaksham Middle East General Trading LLC - Dubai
- Vihita Chem Pvt.Ltd. - Bharuch, Gujarat
- Hi-Shine Inks Pvt Ltd - Bilimora, Gujarat
- JMN Associates Navsari, Gujarat
Hospital/Health Sector
- RNC Eye Hospital - Valsad,Gujarat
- Rotary Eye Hospital - Navsari,Gujarat
- Amit Hospital - Valsad,Gujarat
- Gram Seva Trust (Kharel Hospital) - Kharel, Ta. Gandevi,Navsari