"The future of education is interactive"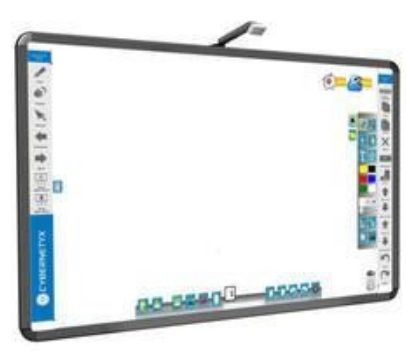 An interactive whiteboard is a large, interactive screen that connects a computer and a projector. The user can control the computer by using a special pen, finger or another tool to touch the screen of the interactive whiteboard. Normally, interactive whiteboards are fixed on walls.
Connect your devices and classroom technology, optimize remote learning and get students engaged - all while inspiring learners and teachers with powerful teaching tools and world-leading interactive education technology.
Smart board is a very simple to use tool for teachers and trainers to deliver dynamic and interactive lessons in classrooms. Smart interactive boards are loaded with unique smart features which help in delivering the lessons and learning content to the target audience in the most effective and interactive manner.
Features
► Smooth, fast and real-time writing experience without any lag
► Supports Multi-user interaction on the interactive projection at the same time
► Built-in teaching software suite with a gamut of tools and features
Application

For Education

For Business

For Smart Spaces
Till date we have implemented many smart boards in various institutions. We have trained more than 500 teachers from various schools. We are capable of providing all the services required for interactive smart board implementation that includes installation of computer, UPS, Smart board and Wiring etc. We take all the responsibility for your interactive smart board Project. We mainly focus on training to the teachers.
The list of Institutions Where we have done interactive smart board project.
Educational Institute
- Arunodaya Public School - Thane, Mumbai
- Andhjanshala Shivarimar - Dang, Gujarat
- Narmada College of Science & Commerce - Bharuch, Gujarat
- UNEC-The Centre for English Teaching - Surat, Navsari, Gujarat
- Vidhya Nagar Teaching institute - Vidhyanagar, Gujarat
- ASPEE Agribusiness management Institute - NAU, Navsari, Gujarat
- Nau Department of English - NAU, Navsari, Gujarat
- N M Collage of Agriculture - NAU, Navsari, Gujarat
- Kharel Education Society - Kharel, Navsari, Gujarat
- Baif Development Research Foundation
- Kesali School - Kesali,Gujarat
- Manav Kalyan Trust - Navsari, Gujarat
- Sanskar Samrudhi School - Navsari,Gujarat
- The Ambika High School - Navsari,Gujarat
NGO
- Rotary club of Gandevi - Gandevi, Navsari
- Rotary club of Anand Milkcity - Anand, Gujarat
Corporate Sectore
- Infraline computers - Navsari,Gujarat