Why Need Backup?
The purpose of the backup is to create a copy of data that can be recovered in the event of a primary data failure. Primary data failures can be the result of hardware or software failure, data corruption, or a human-caused event, such as a malicious attack (virus or malware), or accidental deletion of data. Backup copies allow data to be restored from an earlier point in time to help the business recover from an unplanned event.
For best results, backup copies are made on a consistent, regular basis to minimize the amount of data lost between backups. The more time passes between backup copies, the more potential for data loss when recovering from a backup.
Benefits of having a backup plan includes:
► Creates an alternative operation plan
► No loss of data
► Cost savings
► Protects the image of your business
NAS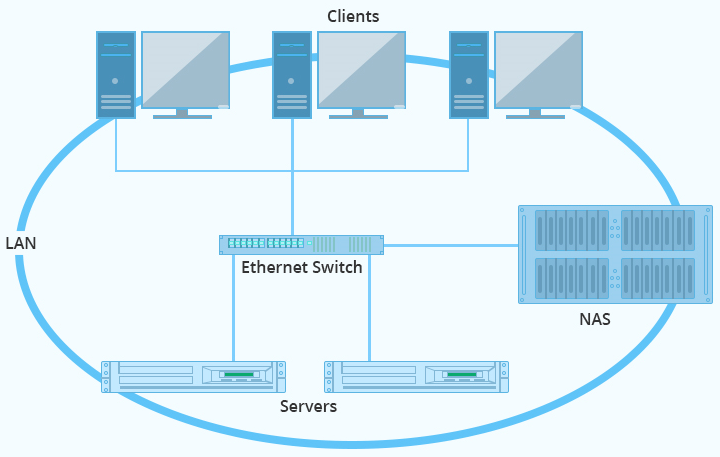 An NAS device is a storage device connected to a network that allows storage and retrieval of data from a central location for authorised network users and varied clients. NAS devices are flexible and scale out, meaning that as you need additional storage, you can add to what you have. NAS is like having a private cloud in the office. It's faster, less expensive and provides all the benefits of a public cloud on site, giving you complete control.
Network-Attached Storage (NAS) is a dedicated file storage system containing one or more storage drives that enable multiple users to collaborate and share data. This shared storage is accessed by users on a Local Area Network (LAN) via an Ethernet connection. NAS is designed primarily for handling unstructured data, such as audio, video, websites, text files, and Microsoft Office documents.
Why You Need NAS Backup Solutions?
The data NAS devices store is essential to the daily operations of your business. NAS devices need to be protected in order to ensure that the data is safe and can be retrieved in any situation such as device failure, human error, and natural disasters.
Benefits
Here are several reasons to consider using network attached storage.

Central File Storage and Access
Automated Local Cloud Backup

Easy to Set Up and Use

Reduce Hardware Costs

Space-Saving and Compact

Affordable File Storage for Homes & Offices