NVDMRA - SAMAYA
Imagine the appointment system where just to get the appointment one has to travel miles and have to wake up early in the morning. The SAMAYA is the system that is built to resolve all these problems using the internet technology. Samaya is built for the medical representatives. The application helps in taking appointments with the doctor. The application is developed for the medical representatives. Traditionally the association manages diaries for individual doctors and the MR has to write the name on a specific appointment date. The traditional system took too much time and resources. In this system MR has to visit the doctor's clinic to get the appointment. As well as they have to be on time for getting the appointment. This system was managed by MR association but it was hard to rectify the non association members. With this initial requirement we conceptualised the online appointment system for Medical representatives. In the new system the members of the association are registered and are given a username password to access their profile. Using the same detail they can take appointments online. The doctor profile is also created. Number of rules and activities are defined for MR like,
► MR can not take more than one appointment of same doctor in a month
► Appointment system starts automatically at specified timing on specific days
► MR notification system is developed to communicate messages
► Each doctor gives a specific number of appointments each day; this is also set in the doctor profile
Advantages
► Member's get appointment online so no need to travel just to get the appointment.
► The association membership increased to almost double in only six months and that lead to an increase in membership amount.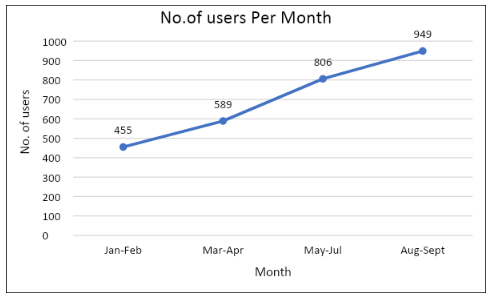 ► Easy to get membership fees to the account.
► Transparent system
► Easy to communicate with the member
► Members can concentrate on important tasks
► User friendly
Statistics (Jan'19 to Sept'19)
► Total 21 doctors registered
► Total 949 MR registered
► Total 12,584 appointment taken
► Average 162 appointments per month